Cheese cutting frame - horizontal.

Product no.: 1343, Weight: 320 g., In stock

Price for
1 item: 720,00 DKK
Using a cutting frame for cutting of curds ensures a clean equal sized cut which provides you with a better structure of the cheese. Water will drain of the curd more easily and thereby allowing you with better control over acidification of the cheese through the last stages of the process. The acidification process influences both structure and flavor.

Vertical cutting of the curd is easily done using a long knife, whilst the same is not easily done horizontally but can be done by cutting at an angle from the top of the curd - however this leaves you with larger chunks of various sizes.

Use the cutting frame by lowering it in to the curd through one of the vertical cuts and drag it round the curd whilst still keeping in a vertical position. The wires will then cut the curd horizontally.

The frame is made from stainless steel, the handle is food safe plastic (POM), and the wires are made from strong fishing wire. The frames are also available with a one centimeter space between the wires.

The photo illustrates 3 cutting frame, threaded with different sized spaces in between. 1, 2 og 3 centimeters.

It is possible for you to have only one frame an re-thread it as yo may desire for each occasion but it can be a bit of a job if you havent practiced it before. The easier way is to have several cutting frames with different threading, ready for use whenever you need them.

Please make a note in "commets" when ordering as to which threading you wish for your cutting frame.

Extra fishing wire included.

It is not a cheap tool, but this one time investment is by far exceeded by the delight and ease it provides to any cheese making process and the end results.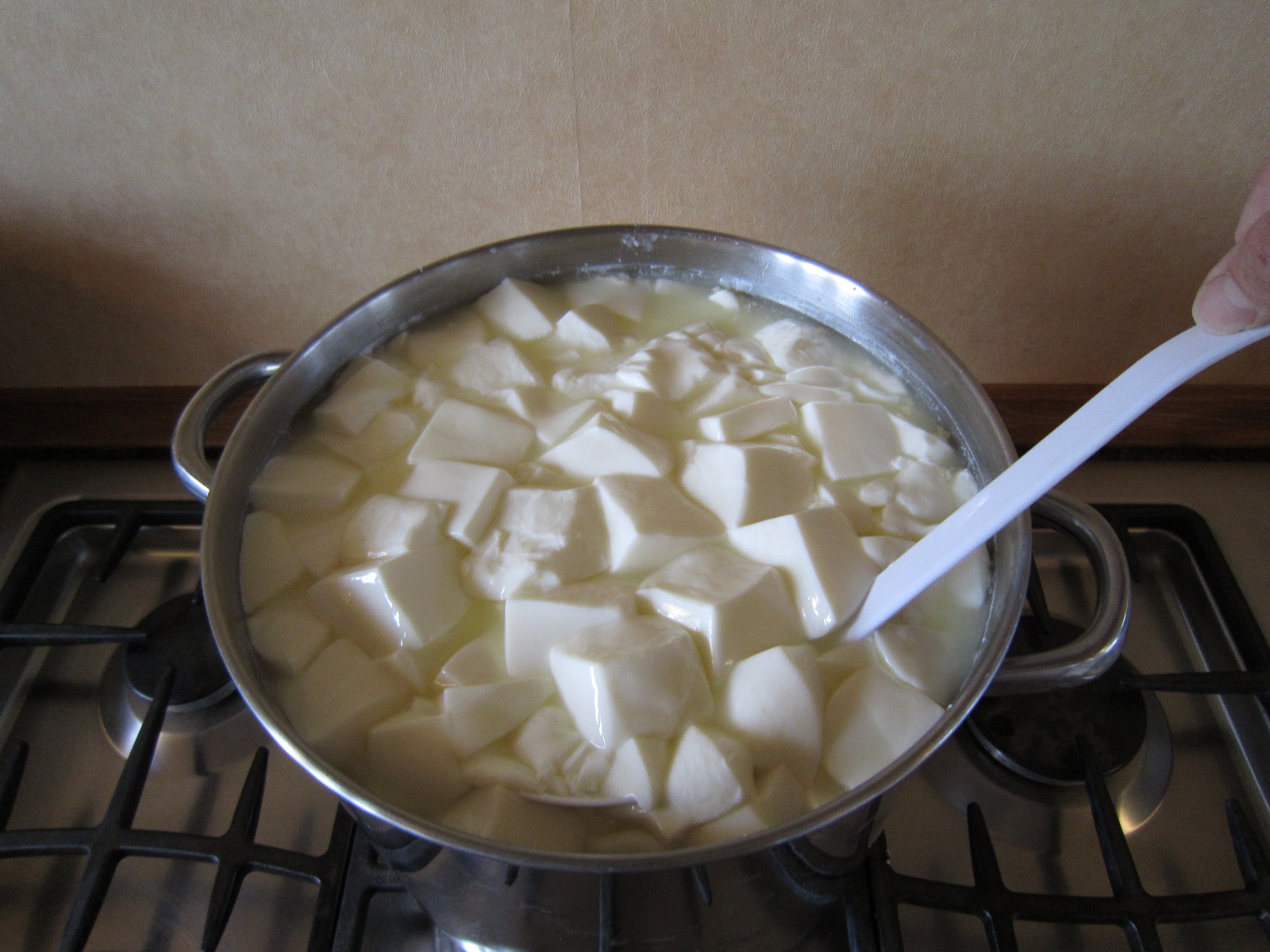 The cutting frame is threaded with a 0.61mm wire (green and extra strong).
Dish washer safe
Photo on the right shows a curd cut with a "3 centimeter" threaded cutting frame.
You may find other cheese cutting tools on the internet but please be aware that they are usually not well suitet for cutting through soft curds, and particulairy, not horizontal cuts.
Cheese cutting frame - horizontal.
Product no.: 1343, Weight: 320 g., In stock

Price for
1 item: 720,00 DKK