Steam pot - 10 liters

Gryde til dampning af ris, grøntsager, frugt m.m.
Product no.: 6020, Weight: 4700 g., In stock

Price for
1 item: 770,00 DKK
Steam pot in stainless steel used for steaming vegetables, rice etc.
Can be used with gas-, electrical-, ceramic- or induction stoves.
The pot has a diameter of approx. 28 cm and a total height of approx. 36 cm.
The pot consists of 3 parts and a lid (see sketch below and see picture):
Bottom part is for water.


Central part has an opening in the center which allows steam to pass through. The central part has a tap from which the condensed juice can be extracted/poured.


Top part has a perforated bottom through which the condensed steam/juice can drop through and in to the central part. Place the fruite/vegetables in the top part and the juice from the goods will be steam extracted, Volume approx. 10 litres.
Includes hose clamp as shown in the picture.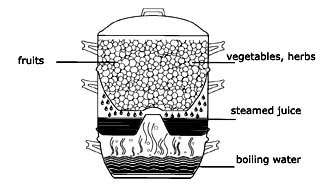 Steam pot - 10 liters
Gryde til dampning af ris, grøntsager, frugt m.m.
Product no.: 6020, Weight: 4700 g., In stock

Price for
1 item: 770,00 DKK