Electric cooker with thermostat and electronic display, stainless steel, 27 litres

Product no.: 8130, Weight: 7000 g., In stock

Price for
1 item: 2740,00 DKK
This advanced electical cooker has digital display, build in thermostate and programmable timer.
This electrical cooker is useful for a myriad of purposes such as making cheeses, canning fruits and vegetables, steamning rice, preparing koji-kome (rice with fungus/mycelium), Sous Vide, Slow Cooking, pasteurization of home made sausages, beer making or even preparing larger quantities of mulled wine during the season.
The build-in termostate ensures a steady rise in temperature to the pre-programmed level you desire and will prevent any undesireable rises in temperature beyond that point which may be harmfull to bacterial cultures when making cheeses etc.
Note: Our experience show us that the pot work best controlling the temperature if you use a large portion. The temperature control of the pot is lees good if you only work with a few liters in the pot, UNLESS you use the simmer-pot. Using the simmer-pot, by which you use 4-5 liters of water in the pot, while the product you need heated is placed in the simmer-pot, the temperature control works fine.
1800W heater.
We stock a special grid for the electical cooker which is very useful as a steady base when canning foods.
We also supply a simmer pot for the electrical cooker which is very useful for simmer cooking at low temperatures, pasteurization of milk etc. It provides you with good temperature control even when heating smaller portions of liquid.
Target temperature can be set per 1°C in the range 30°C and 100°C.
Times from 1- 120 minutes. Or the timer can be deactiveted.
Fittet taps are available - Clik here.
When ordering an electrical cooker with fittet tap, you have the option to select its position of the tap on the cooker. All you have to do is specify this in the message box when ordering. If you do not specify any tap position, we will place the tap in the standard postion (position 0). If you wish the tap to be fitted elsewhere, please specify this according to the picture below.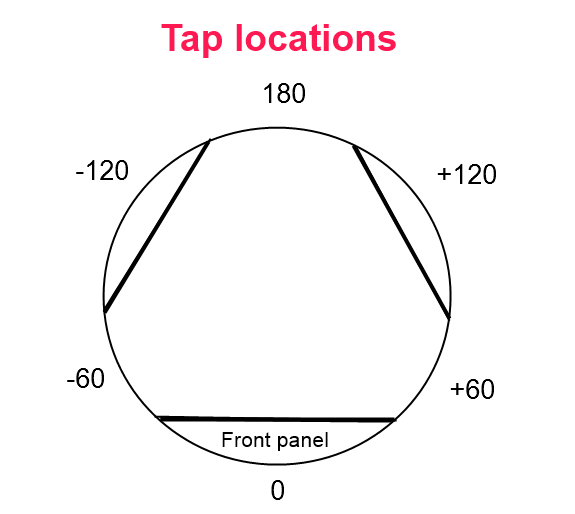 Below is an illustration of the temperature rise for 20 litres of cold water. The water has a starting temperature around 5°C and the temperature level is programmed for 32°C.

About the temperature during heating...
Electric cooker with thermostat and electronic display, stainless steel, 27 litres
Product no.: 8130, Weight: 7000 g., In stock

Price for
1 item: 2740,00 DKK