Yeast Culture - LAF-TRIO - For 500 liter

Product no.: LAFTRIO_5, Weight: 10 g. (Content: 1 g), In stock
Producent: Chr. Hansen | Art.No.: 201189

Bemærk: Leveringstiden kan variere.

Price for
1 item: 60,00 DKK
LAF TRIO is a blend of defined yeast strains with origin in traditional French cheese making. They have been especially selected for their ability to prevents the growth of contaminant at the surface of the cheese. The synergetic effect from the strains inhibits contaminant, e.g. blue molds and mucor.
LAF TRIO may be used in lactic curd, soft cheeses with washed surface and Continental cheese with natural rind. The culture works in different ways:
- by generation a protective film on the cheese surface
- by allowing the consumption of residual sugars
- by accelerating the curd neutralisation.
LAF TRIO can also be used for Kefir production. It provides a light yeast flavor characteristic and acts as a bio-protection against contaminating moulds.
This product is developed for use in the production of dairy based milk cheeses.
Directions:
Add the culture to the milk before renneting and/or apply to the surface of the cheese a few hours after salting, by spraying or washing. For direct milk inoculation, no particular cautions are required.
For surface application:
1) Suspend the content of the pouch in 1 litre of sterile water.
2) Shake well before use.
A prepared suspension using one litre of water is sufficient for about 250 kg of cheese, and should be used on the day ofpreparation.
Note: When applying LAF TRIO to blue mould cheese, the culture it is recommended to be sprayed onto the cheese a few hours after salting. Picture below show effect of addition of LAF TRIO to cheese ripened with P. roquefortii.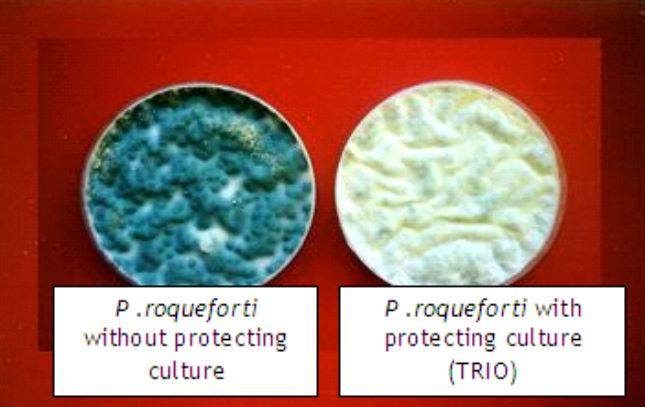 LAF TRIO is active at temperatures ranging from 2 - 35°C, with an optimum growth temperature in the range 20 - 30°C.
Dosing small amounts of culture is made easy with our spatula micro spoon.
Applying mold culture onto the cheese can be done using a spray bottle.
Yeast Culture - LAF-TRIO - For 500 liter
Product no.: LAFTRIO_5, Weight: 10 g. (Content: 1 g), In stock
Producent: Chr. Hansen | Art.No.: 201189

Bemærk: Leveringstiden kan variere.

Price for
1 item: 60,00 DKK