Silikoneindsats til møllehus

Product no.: 9073, Weight: 60 g., In stock

Price for
1 item: 95,00 DKK
Silikoneindsats til møllehus.
Kan bruges hvis du ønsker at anvende din KoMo kornkværn til kraftigt afsmagende produkter.
Det er ikke trivielt at skifte indsatsen i møllehuset - det kræver lidt fingerfærdighed.
Kontakt Hjemmeriet for vejledning.
Loading...
Cart - This product
 
 

Qty.

Per Unit

Price

Silikoneindsats til møllehus

95,00 DKK
Cart - Total

Inkl. moms

 
0,00 DKK
Other products with similar contents:

- Hjemmeriet > Brot > Grain Mills etc. > Accessories: Interchangeable insert 250 W



Opgradering af møllekammer
... Silikoneindsats eller ikke ...
Silikoneindsatsen var standard i ældre modeller af KoMo kornkværne. I de nuværende KoMo kornkværne er silikoneindsatsen taget ud, hvilket giver mere plads i møllekammeret.
KoMo kornkværne holder typisk i MANGE, MANGE år, og der findes derfor stadig mange KoMo kornkværne i brug, med silikoneindsats.
I de nuværende KoMo kornkværne er silikoneindsatsen erstattet af et par tilføjelser – se billed 1 herunder.
Har du en model af en KoMo kornkværn, med silikoneindsats, kan du selv udskifte silikoneindsatsen med den nuværende løsning. Det kræver ikke det store at gennemføre opdateringen, og i det følgende beskriver vi, hvad der skal gøres. Er du i tvivl, eller vil have lidt støtte fra os, er du velkommen til at kontakte os, for at få guidance til at udskifte silikoneindsatsen med de nuværende løsninger. Billede 2 herunder viser møllekammeret efter opgraderingen.
Hvis du vil ændre en ældre model, med silikoneindsats, til en nuværende model, uden silikoneindsats, er der her en vejledning til, hvorledes du gør dette.
Vær dog opmærksom på følgende: Hvis du tillige har en sigtecylinder til brug sammen med kornkværnen, hører der til denne en pas-ring (billede 9), som placeres hvor den øvre møllesten er placeret, når du skal bruge sigten. Denne pas-ring har en kant som passer ned i møllekammeret. Med ændringen af møllekammeret, så der ikke længere anvendes en silikoneindsats, er pas-ringen ændret så kanten på pas-ringen er gjort bredere. Opgraderer du din KoMo kornkværn skal du derfor tillige have en ny udgave af pas-ringen til sigten.
Vejledning til opgradering af møllekammeret i din KoMo kornkværn.
1) Fjern silikoneindsatsen ved at tage den nederste møllesten ud (husk at bolten, som holder stenen på plads, er med modsat-gevind) og derefter trækkes silikoneindsatsen ud.
2) Tilføj en indre tud, som erstatter tuden i silikoneindsatsen. Tuden skal placeres så enden med den indre stift placeret ved møllekammeret (billede 1 og 2). Det kan være lidt svært at få lirket tuden på plads. Den skal lirkes på plads, så den passer i møllekammeret med at den indre stift er udfor skruehullet i møllekammeret. Det kræver lidt snilde / tålmodighed og med brug af diverse køkkenredskaber lykkedes det som regel - ellers kontakt os.
3) Tilføj skruen (billede 2), som fæstner den indsatte tud til møllekammeret.
4) Sæt den nedre møllesten på plads igen (billede 3, 4, 5 - husk modsat-gevind på bolten).
5) Tilfør top-ringen, som passer i møllekammerets øverste del. Denne top-ring lukker for hullerne i den øvre kant af møllehuset. Bemærk at ringen skal monteres så hullerne til stifterne i den øvre sten passer SAMTIDIG MED at top-ringen er placeret så hullet til en skrue er placeret ved kornkværnens tud. Se billede 6. Pres ringen godt på plads, brug eventuelt en gummihammer eller lignende.
- Så er opgraderingen gennemført -
BEMÆRK: De to huller i møllekammerets topring, hvor stifterne til den øvre møllesten skal placeres, holder på en fjeder i hvert hul. Vær obs på dette - fjedrene kan falde ud, hvis du får vendt bunden i vejret på kornkværnen. Check at fjedrene er i hullerne - Se billede 7 og 8.
Billeder
1: Dele til opgradering af møllekammer: Top-ring + indre tud + skrue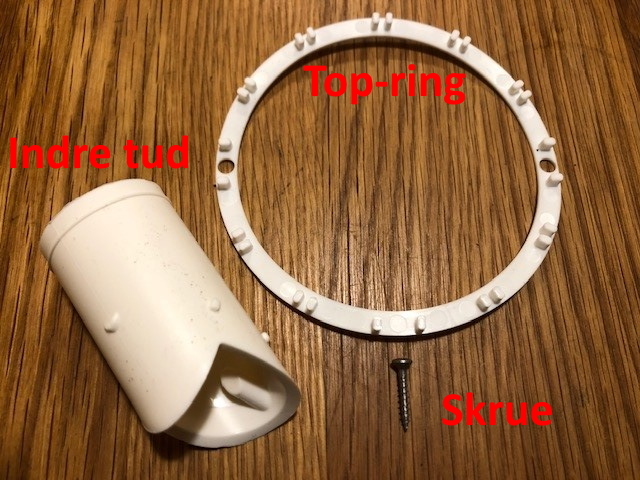 2: Opgradering gennemført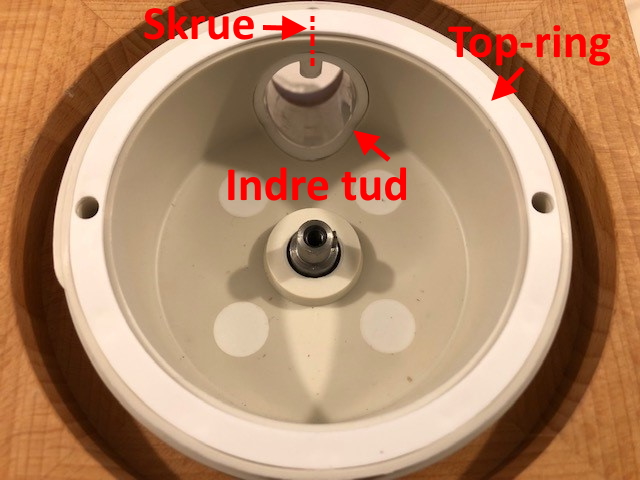 3: Montering af nedre møllesten - OBS: Aksel-split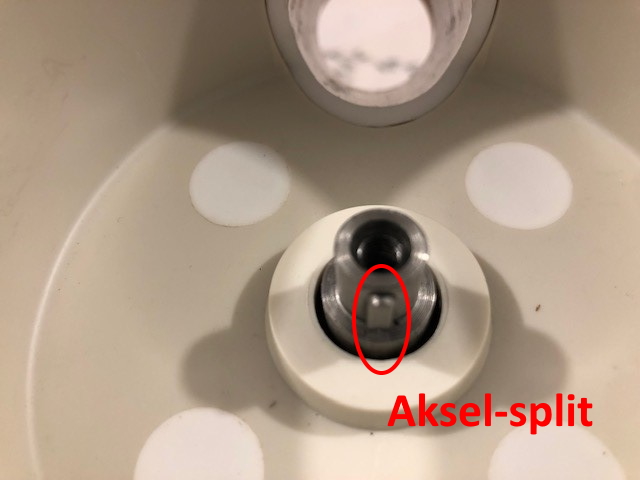 4: Montering af nedre møllesten - OBS: Aksel-split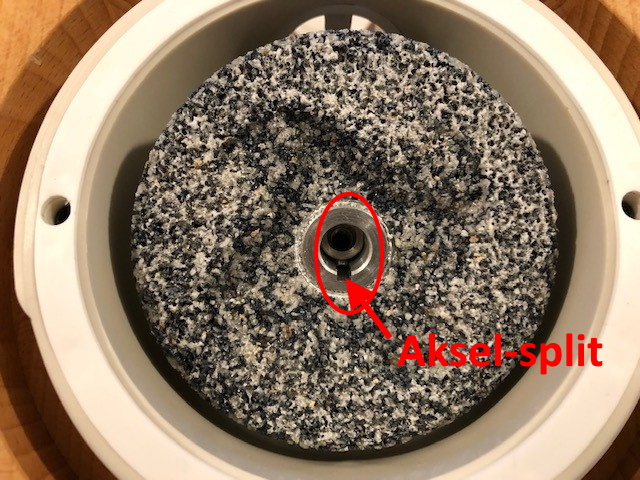 5: Montering af nedre møllesten - Sten på plads...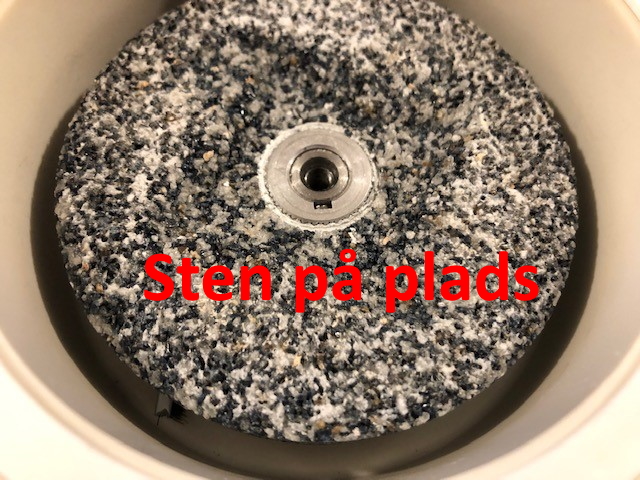 6: Top-ring - OBS: Positionering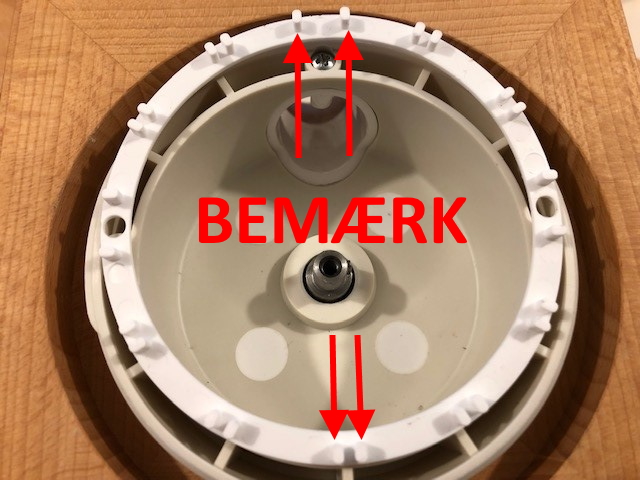 7: OBS: Løse fjedre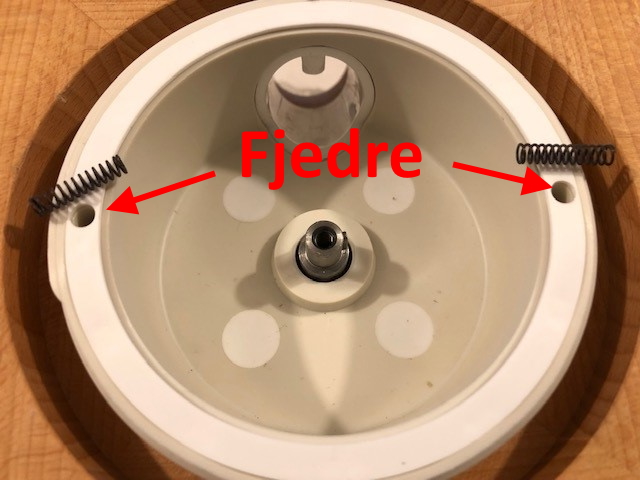 8: OBS: Fjedre - check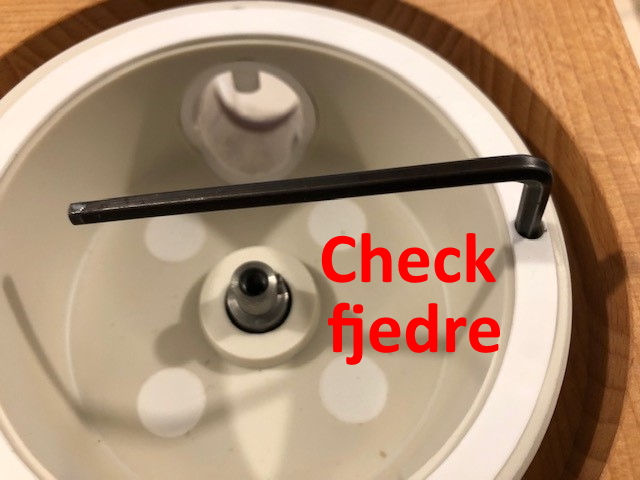 9: OBS: Pas-ring til sigte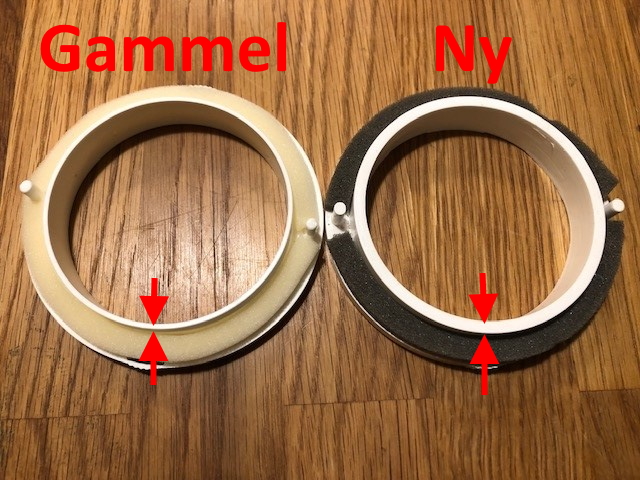 Silikoneindsats til møllehus
Product no.: 9073, Weight: 60 g., In stock

Price for
1 item: 95,00 DKK